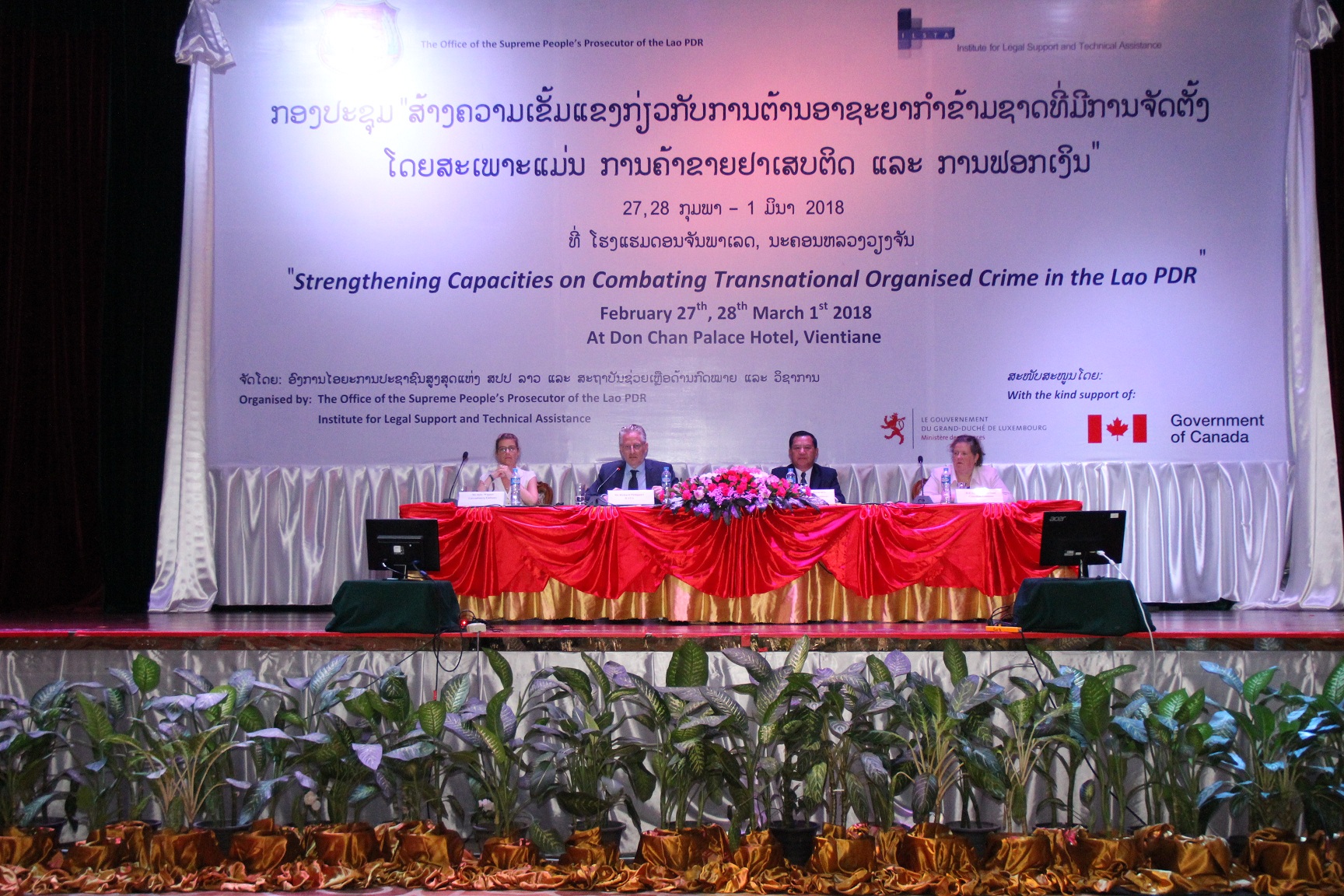 Transnational organised crime conference draws delegates nationwide
More than 420 delegates attended a national conference on "Strengthening Capacities on Combating Transnational Organised Crime in Lao PDR". The conference took place in Vientiane from 27 February to 1 March.
The special focus of this year's conference was the illicit drug trade and money laundering. All 17 provinces of Laos were represented. Delegates included provincial prosecutors, police, judiciary, as well as 17 Vice Governors.
The conference was jointly organised by the Office of the Supreme People's Prosecutor (OSPP) and the Institute for Legal Support and Technical Assistance (ILSTA). Mr Bounyang Chandalasane, Deputy Prosecutor General and Mr Richard Philippart, President of ILSTA, co-chaired the event.
In his opening remarks, Mr Bounyang Chandalasane said, "The Supreme People's Prosecutor has prioritised cooperation with central and rural levels of government as well as international organisations to prevent and tackle drug crimes and money laundering."
Experts from international organisations including ILSTA, UNODC, the University of Luxembourg, the Center for the Study of Democracy, Bulgaria (CDS), presented on a wide range of organised crime threats. Delegates learned of the illicit drugs trade, illegal wildlife trade, environmental crimes, money laundering, corruption, human trafficking and people smuggling. The conference also addressed emerging threats like white-collar crime and cybercrime.
The worrying shift from opiates to synthetics
Mr Inshik Sim from UNODC outlined the latest drug trends in the region. Although opium production continues to fall, there is a worrying rise in amphetamine production, which is driving down the street price of the drug.
Mr Sim also revealed that new psychoactive substances (NPS), synthetic drugs, are being illegally produced and exported from the region. These drugs, such as fentanyl, are up to 50 times stronger than natural opioids and pose a serious public health risk.
National agencies were well represented with presentations on international law from the Ministry of Foreign Affairs; the new penal code from the Ministry of Justice; procedures in the prosecution of drug and money laundering cases by OSPP; and an overview of cybercrime in ASEAN by the People's Supreme Court.
Practical training on Anti-Money Laundering
The Royal Canadian Mounted Police (RCMP) ran a special working session on money laundering. The session included practical case studies on identifying red flags for money laundering. Participants also learned how to conduct a financial investigation. Officials from the Anti-Money Laundering Intelligence Office (AMLIO) of the Bank of Lao PDR attended the session. They were joined by compliance units from 10 private banks, the Lao Economic Police, prosecutors and judges.
Follow-up provincial training
The conference, which was supported by the Ministry of Finance of Luxembourg and the Government of Canada, concluded by adopting a series of recommendations. These included steps to enhance the inter-agency cooperation initiated by the conference through ILSTA's online platform. ILSTA has a permanent presence in Laos and will conduct specialised follow-up workshops on conference topics in provinces around Laos over the coming months.