In the second of a series of workshops which ILSTA is delivering nationwide, prosecutors from five southern provinces and local judges gathered in Pakse to receive training on countering organised crime and anti-money laundering.
The training was officially opened on 18th of June by Mr Khamkhongouten Keomano, Assistant to the Prosecutor General of Lao PDR, and Mr Keith Farquharson, Programme Officer of ILSTA, and attended by officials from Champasak, Attapeu, Sekong, Salavan and Savannakhet.  The workshop was organised by the Supreme People's Prosecutor and the Institute for Legal Support and Technical Assistance from Luxembourg and was supported by the Ministry of Finance of Luxembourg and the government of Canada.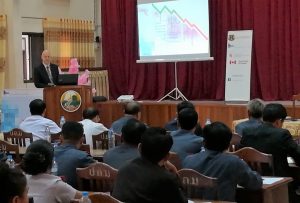 The goals of these trainings are to improve awareness and understanding and to showcase best practices in combating different types of organised crime and their links with money laundering.  An overview of crime types included environmental crimes (such as illicit wildlife trafficking and illegal logging), violent crime, drug crime, and emerging crime types like cybercrime and white-collar crime.
A representative from the Anti-Money Laundering Intelligence Office (AMLIO) presented on the role and functions of the financial intelligence unit in Laos.   In addition to being exposed to new concepts, the participants gained valuable practical experience from working in groups to examine case studies relating to money laundering 'red flags'.